Appletree Press is proud to announce the publication of George Best: The Legend - In Pictures by Ivan Martin.
George Best: The Legend - In Pictures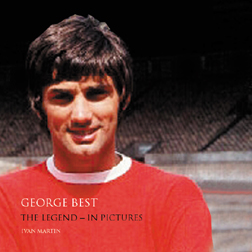 George Best had everything: supreme skill; boundless energy; the ability to make and score goals; radar-like awareness of the game as a whole. But in an era when pitches were often like ploughed fields he had grace and balance which seemed to allow him to skim across the mud and float through the mire.
George Best was also one of the bravest players to step onto a football pitch, taking chances that other players would never attempt. All this made one him of a kind and when Pele described him as the greatest footballer in the world, the Belfast Boy became a true legend.
Ivan Martin looks at the story of one of the famous football stars in the world. Crammed with pictures and extended captions George Best: The Legend - In Pictures captures one of the first superstar icons in football history.
For further details on the book's content, visit the Press Page for this title.
George Best: The Legend - In Pictures
(ISBN: 0 86281 8532) 225 x 225mm / 96 pp / Paperback, is available from most good bookshops at £8.99 stg / €12.95
Also published by Appletree Press:
Ireland's Ancient Stones - A Megalithic Heritage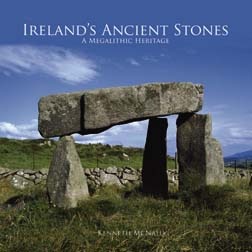 A drive around Ireland's countryside reveals many ancient rocks, standing on their own or in small groups or even precariously balanced creating huge stone tripods.

The Irish countryside is rich in these reminders of prehistoric times and one has only to catch sight of a lone dolmen standing against the sky to appreciate the efforts of the ancient builders. Ireland's Ancient Stones celebrates Ireland's rich megalithic heritage from the Neolithic and Bronze Ages.

Ken McNally describes over 100 sites in detail and every site has been beautifully illustrated with a combination of colour and B&W photography with drawings and engravings, many dating from seventeenth and eighteenth centuries. Ireland's Ancient Stones is a beautiful celebration of Ireland's prehistoric monuments and a tantalising glimpse at the lives of her ancient peoples.

Ireland's Ancient Stones is available from all good booksellers price £18.99 / €27.50.




Our address is, The Old Potato Station, 14 Howard Street South, Belfast BT7 1AP.