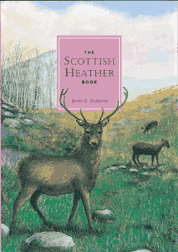 Author: Brian D. Osborne

ISBN-10: 0862817056

ISBN-13: 978 0 86281 705 3

156 x 110mm / 60 pp / Hardback

£ 3.99
€ 6.95


The Scottish Heather Book
The purple glow of heather-clad hillsides in summer-time is one of Scotland's most typical and beautiful sights. No wonder heather has become a well-loved national symbol.
But heather has not just been part of the landscape. The place of heather in Scottish life has always been important in a varitey of ways, ranging from the ordinary to the spectacular - heather besoms swept floors, hardy Highlanders slept on piled heathers and the clan Macdonald rallied in battle to the heather-bound staff. There is also the immemorial secret of heather ale, and the unforgettable taste of heather honey. And why should white heather be seen as lucky?
This delightful little book brings you all the secrets of Scottish heather.

Available from: