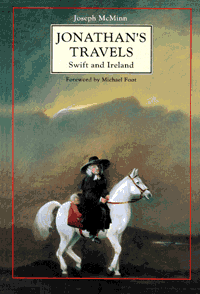 Author: Joseph McMinn

ISBN-10: 0862814537

ISBN-13: 978 0 86281 453 3

250 x 175mm / 160 pp / Hardback

£ 15.99


Jonathan's Travels - Swift and Ireland
This is the first illustrated account of Jonathan Swift's life-long and extensive travels around Ireland. Author of Gulliver's Travels, one of the world's greatest satirical fantasies, Swift explored most corners of Ireland, from Antrim to Kerry, from Galway to Wicklow. As Dean of St. Patrick's Cathedral in Dublin, he rode throughout the island to visit friends at their country estates, enjoying their hospitality and observing the changing face of the Irish landscape in the wake of the "Glorious Revolution". In his poetry and pamphlets, and especially in his letters, Swift showed a passionate and imaginative attachment to Ireland, earning him the popular reputation of "Hibernian Patriot".
In a series of chapters based on places and journeys (including his many voyages across the Irish Sea), this study explores Swift's sense of Ireland, quoting extensively from his critical and detailed observations about people, culture and landscape. Using a wide range of contemporary illustrations, this account gives a unique and vivid appreciation of Georgian Ireland, notably the changing character and shape of Dublin, and recreates the strong sense of adventure that distinguishes Swift's attitude towards his birthplace.
This is a dramatic biography as well as a topographical narrative, one which tells the story of Swift's life from a traveller's viewpoint. It dispels the myth of Swift as a misanthropic recluse, and shows him as a most energetic and sociable writer utterly committed to the improvement and well-being of Ireland.

Available from: