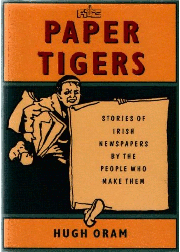 Author: Hugh Oram

ISBN-10: 0862814391

ISBN-13: 978 0 86281 439 7

241 x 172mm / 144 pp / Paperback

£


Paper Tigers
Newspapers form an extraordinary pattern of social, economic and cultural documentation in Ireland, where every national and provincial paper is read with an avidity rarely matched elsewhere. Moreover, the story of newspapers in Ireland is itself a fascinating one: not only are those who write, edit and produce them a colourful crowd, but over the years Irish newspapers have themselves generated a subculture all their own.
Paper Tigers, based on the RTE radio series of the same name, tells their story in the same informative and entertaining way as the newspapers themselves record the events of the world outside. Topics range from the national dailies and Sundays to the provincial papers of Meath, Louth, Derry and Mayo, and from the gossip columnists and' critics to the many characters of the Dublin newspaper trade.
Contributors span the entire spectrum of Irish newspaper publishing, among them Douglas Gageby, Terry Keane, Frank Hall, Conor Brady, Vincent Browne, Hugh Leonard, Helen Lucy Burke and Ben Kiely. Their lively accounts confirm the view that the newspaper world is the source of many a fine story - often improved by constant telling!

Available from: