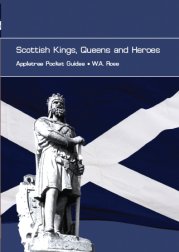 Author: W. A. Ross

ISBN-10: 1 84758 063 7

ISBN-13: 978 1 84758 063 4

105 x 148mm / 96 pp / Paperback

£ 4.99
€6.95
Scottish Kings, Queens and Heroes - Pocket Guide
The ever-popular Little Book series has been expanded in an attractive new format.
Scotlandís monarchs have always had a tough job. Their kingdom had ancient roots but rivalry and unrest at home, and hostility across the border, often made the throne an uncomfortable place to be. Some of them failed while others served their nation well. Many died violent deaths as did Scottish folk hero, William Wallace.
This book guides us through Scottish history from the Celtic era up to the present and sheds light upon some of Scotlandís most interesting monarchs and heroes.
Names include: Rob Roy MacGregor, Bonny Prince Charlie, Mary, Queen of Scots, William Wallace, James VI, Robert the Bruce and Macbeth.

Available from:
amazon.co.uk