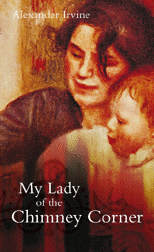 Author: Alexander Irvine

ISBN-10: 0862814642

ISBN-13: 978 0 86281 464 9

190 x 127mm / 144 pp / Paperback

£ 5.99

€ 8.95


My Lady Of The Chimney Corner (pb)
Alexander Irvine achieved fame as a preacher and union organiser in North America towards the end of the nineteenth century, but today he is perhaps best remembered for My Lady of the Chimney Corner, the story of his childhood in Antrim and, in particular, of the love and faith of his mother, Anna Gilmore Irvine:
"Sunk in direst poverty all her life, my mother in her chimney corner was a minister of light. Her sayings wove themselves into the texture of my being... and that is why I wrote her spiritual biography and called it, with a touch of irony, 'My Lady of the Chimney Corner'."
He (Irvine) is remembered, as I think he would like to be remembered, by one simple, transcendant book.

Available from: