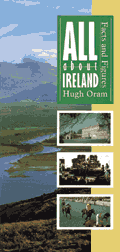 Author: Hugh Oram

ISBN-10: 0862812321

ISBN-13: 978 0 86281 232 4

196 x 92mm / 72 pp / Paperback

£ 3.99


All About Ireland
Ireland is a small, but complex country with a strong cultural and social identity. Increasingly, however, the traditional image of an unchanging rural society - livign at some unspecified point in the recent past - has altered as Irish people, particularly the young, have seized the opportunties and tackled the challenges brought about by technological change and the new European order.
All About Ireland sets out to unravel the various strands which go to make up the rich fabric of present-day Irish life. The book contains twenty-two chapters, with sections on architecture, geography, history, literature, music, people and population and theatre and film, and aims to explain, in a concise manner, just how Ireland works and how its various aspects relatetot one another. The book is fully illustrated in colour throughout.
Hugh Oram is a journalist and author. He has written a number of books including Ireland: The Complete Guide and Dublin: The Complete Guide, both published by Appletree Press, and lives in Dublin.

Available from: